What is the camp and why did you choose this one in particular?
Our April event is located at Camp Champions in Marble Falls, Tx. We Absolutely LOVE this location. We specifically chose this spot because of the very intense nostalgic feeling when you're there. It IS a classic camp. Beautiful, right on the lake, and styled to be as playful as possible.
Was there anything that you saw on the initial tour that made you think "yeah this is the place"?
From the minute you enter the gate the nature and wilderness immersion is obvious. Coming around that bend and the first thing you see is the rock wall?? Your heart just starts racing at the thought of all the physical fun to be had. And the Pirate Ship Ropes Course?!? Exactly what it sounds like, but it's so cool you have to see it to believe it.
What are you most excited for people to see / take advantage of when camp times come around?
Honestly, the vibe is incredible. Don't get me wrong, definitely DO all the things… see the shows, hear the bands and music, participate in all the activities and challenges and games… but the real take-away is the community. Take advantage of the wonderful atmosphere and make a bad-ass friend that you know you can have fun with.
What activities and/or events are you personally most excited for?
The camp facility at Camp Champions is amazing. Super cool, super big, extravagant, and just awesome looking. Lots of fun stuff to do, see, and play on. Secretly though, I'm personally very excited for the odd-ball stuff. The stuff we're bringing to the table as a company that no other summer camp does. Specialized adult activities and sports games you've never even heard of.
In your opinion, what are the best spots at camp to….
relax with a drink? You've got to go check out the sunrise/sunset while sitting in one of the lounge chairs by the lake. *stress-free chef's kiss*
catch up with an old friend? Definitely hit up the rooftop drink spot for a reunion or meeting someone new. It's the central social hub.
be romantic? (oolala)Take them on our nature pub crawl, or share a second story swing.
be one with nature?While everywhere brings you into the outdoors, the sound bath yoga will be sure to connect you.
have a dance party? The central, open-air party house really can't be missed, but with wireless headphones for a silent disco, who knows where you'll end up?
​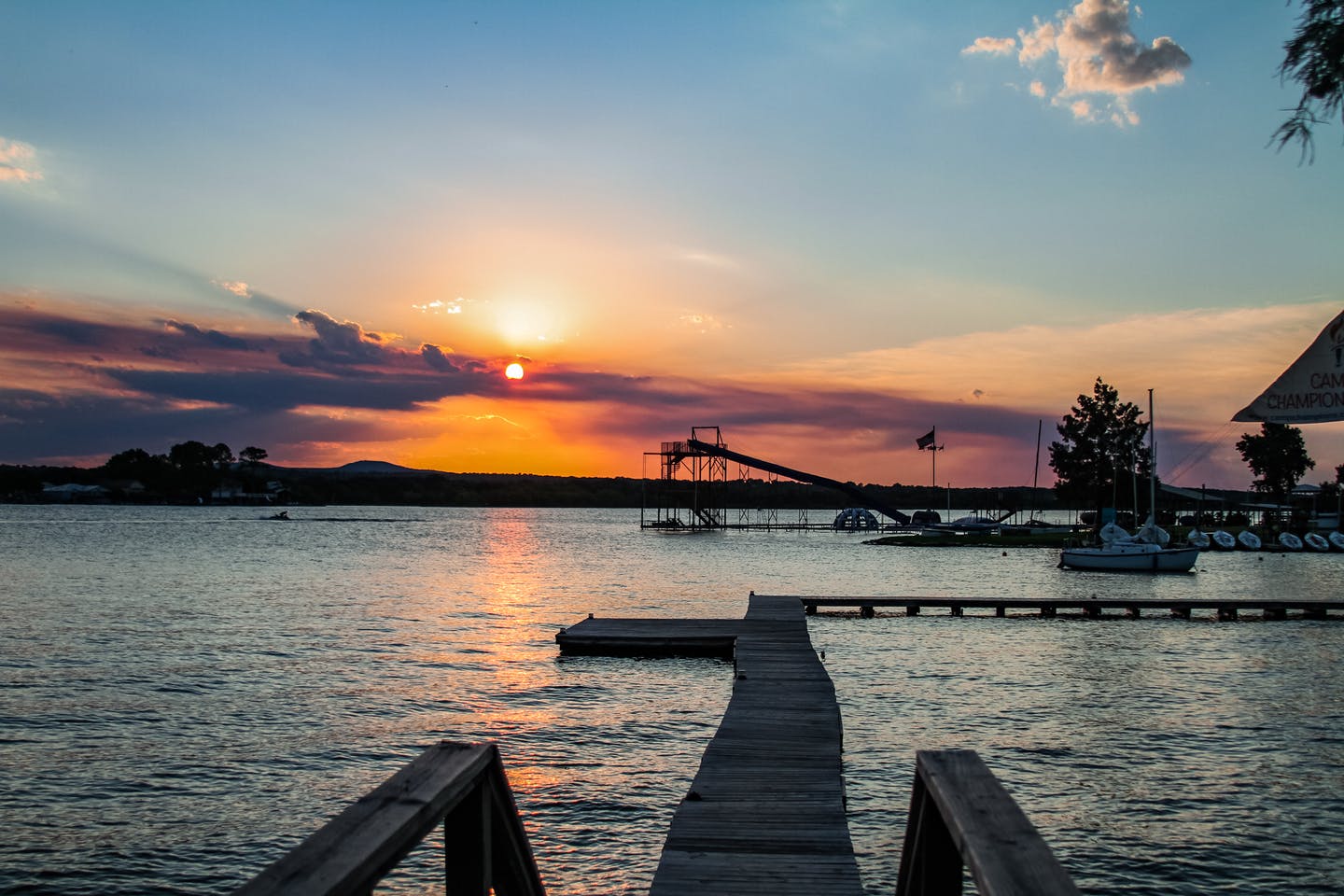 After reading this insider information from our fearless camp directors, you've gotta be excited for the weekend getaway of a lifetime at adult summer camp.
But if you still have questions, we've got answers:
How long is the event?
You'll arrive on Friday afternoon. The fun doesn't stop, day and night, until you leave Sunday afternoon!
How does lodging work?
Sleeping arrangements are provided with your ticket, and include a classic bunk style bed. All cabins contain restroom facilities. Just bring your pillow, blankets, and whatever else you need to sleep peacefully.
Is food provided?
Not only will you be provided with five catered meals, but all dietary restrictions can be accommodated! There will also be complimentary snacks provided throughout the day!
Is alcohol provided?
Oh yeah. Unlimited alcohol Friday-Sunday. This is, after all, an adult summer camp.
What do I need to bring?
An overnight suitcase for 3 days, a solid pair of shoes, and a sense of adventure! Literally, from the minute you arrive at the airport to the minute you return we make it our goal to have everything provided for! All you need is to show up!
Can I pay for my ticket in installments?
Absolutely! Check out this link to our ticketing page and you'll find installment options.
​